Mikan Okazaki is a Human Who Lives in The Human Village, Is Ellise Okazaki Younger Sister And Yukiko Fujiwara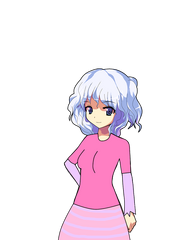 Ally, She Can Manipulate the Fire, Is the Stage 4 Boss and Plyable Characther  in Mysterios Fantastic Youkai, It you Beat Her you can Play as Her.
She Born With a Big Interest In Magic, When se Grown she Knows Yukiko Fujiwara and Become her Friend and Ally, she told to her the History of Yukari no Kagene and her Resurretion, She get Intereset on the History (Sorry for my Bad English <.<).
Spell Cards
Edit
Metal Sign~Demonic Crisis
Heart Sign~ Manly Wind
Fire Sign~Girly Shooting
Butterfly Sign~ Fire Spark!
Community content is available under
CC-BY-SA
unless otherwise noted.